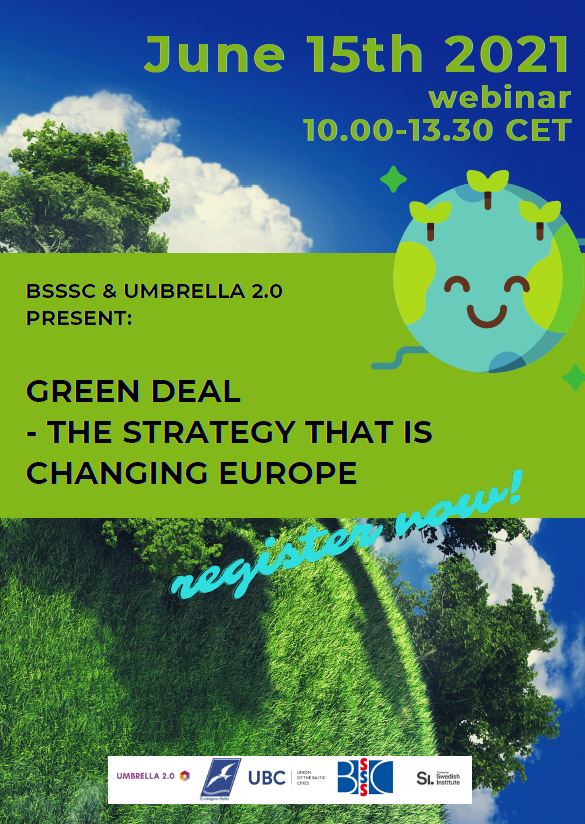 UMBRELLA 2.0 PRESENTS: GREEN DEAL – THE STRATEGY THAT IS CHANGING EUROPE!
We invite you to join us on June 15th for an Umbrella 2.0 webinar on the EU Green Deal in relation to the Baltic Sea Cooperation.
It is dedicated to the so-called 'newcomers' –> small and local organisations willing to engage and increase knowledge on
​EU Agenda,
Organisations active in the Baltic Sea Region
Projects and their impact in 'greening' the BSR
And much more!
REGISTER & take part in this webinar. Be active in discussions with experts and Q&A session!
LINK: https://zoom.us/webinar/register/WN_CUHZ0W3CTJuDK_dIwqD9Zg
PROGRAMME
10.00: Intro & Welcome 10.05 – 10.20: Setting the scene
• Baltic Sea States Sub-regional Cooperation (BSSSC) by Marta Czarnecka-Gallas, BSSSC Secretary-General
• Umbrella 2.0 by Magda Leszczyna-Rzucidło, Project Coordinator, Umbrella 2.0
10.20 – 11.45: Green Deal- the Strategy that is changing the European Union
• Katarzyna Bałucka-Dębska, EU Commission
• Valdur Lahtvee, Council of Baltic Sea States
• Discussion with experts and Q&A session
11.45- 12.00: Coffe break
12.00 – 13.20: Active for Green Baltic Sea Region
• Miikka Toivonen, CASCADE, Southwest Finland Emergency Services
• Nico Stelljes, INNOVA, Ecologic, Germany
• Maria Micha, Diet for Green Planet, Sweden
• Discussion with experts and Q&A session 13.20 – 13.30: Round-up and Conclusions by Marta Czarnecka-Gallas, BSSSC Secretary-General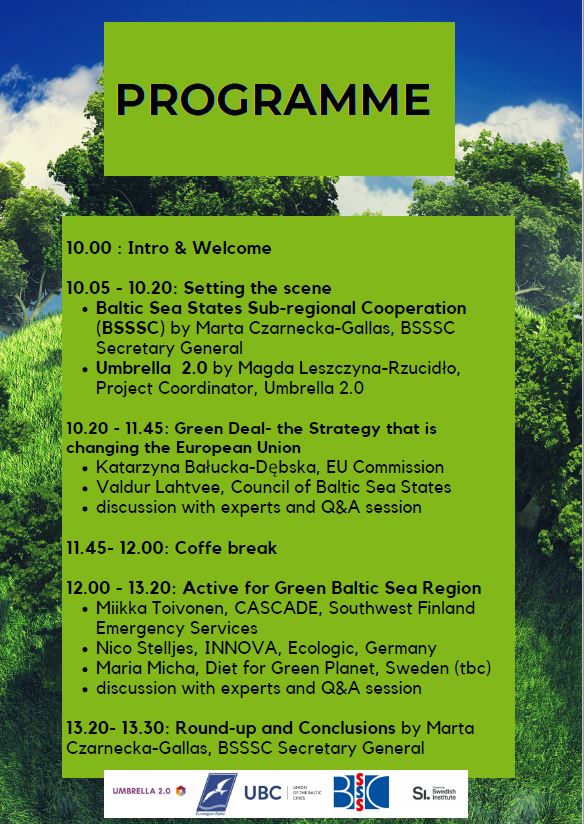 Tags: Baltic Sea, capacity building, EU Green Deal, EUSBSR, SDG, Swedish Institute, Umbrella 2.0