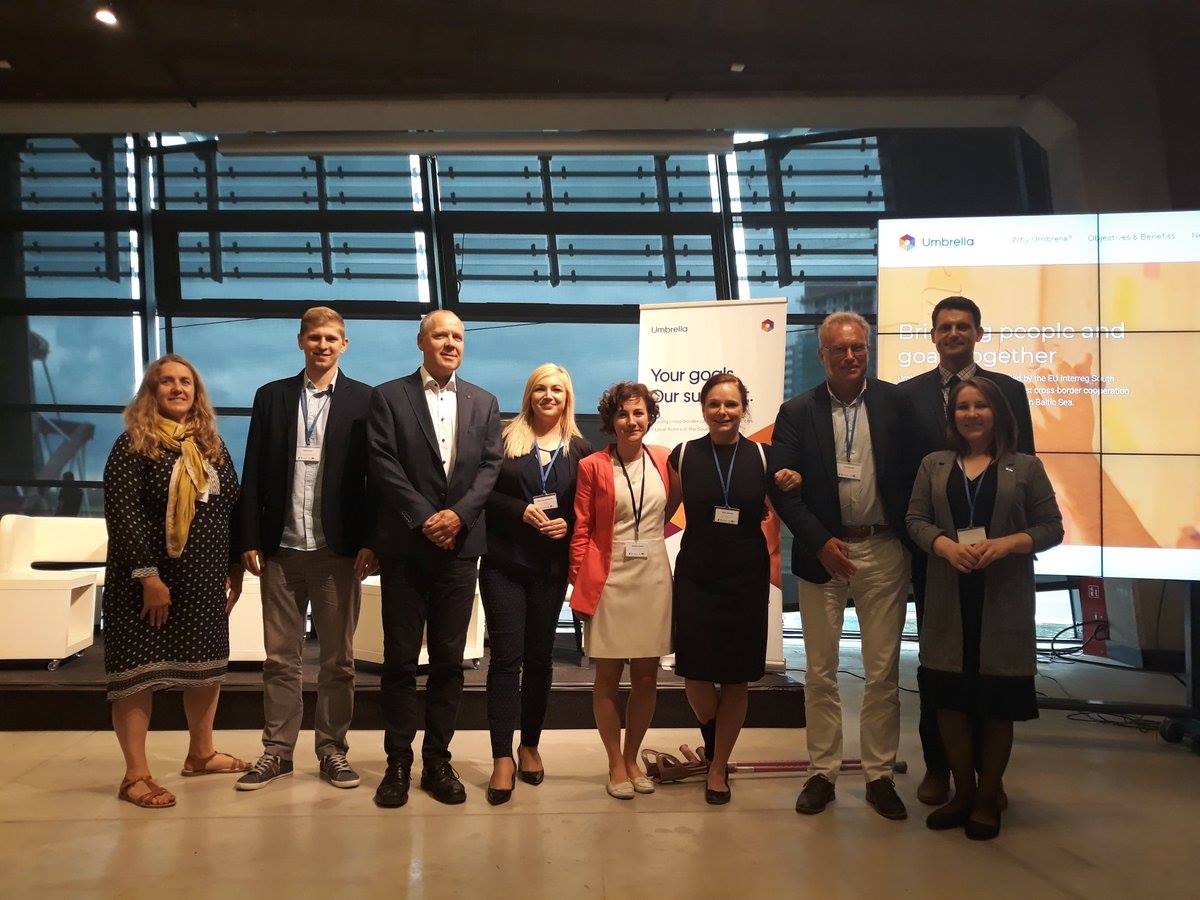 See how we did on our 1st Awareness Raising Event in Gdańsk!
Click here to see the short clip summarising our UMBRELLA project 1st Awareness Raising Event in Gdansk on June 11 and 12th along with more info on our 2-day event!
Our Awareness Raising Event took place on 11th and 12th June in Gdańsk and gathered over 100 participants from organisations and institutions representing 5 countries around the South Baltic region.
The event boosted the potential of the area, fostering cooperation and encouraging new projects, stimulating participants' curiosity and interest.
On 11th June we tried to explain the importance of cross-border (CBC) cooperation and transnational projects with three study visits: in Marszewo Forest Botanical Garden in Gdynia, Gdynia Aquarium and Maritime Institute in Gdansk. We also had a micro activity for the stakeholders interested in cooperation between the museums which was hosted in the Baltic Sea Cultural Centre in Gdańsk.
The second-day conference held in the European Solidarity Centre started with a historical overview, conducted by Prof. Jacek Zaucha, pointed out the challenging process that, passing through the Hanseatic League, has allowed the current CBC within the region. Following that we've received the lecture by the Prof. Dorota Simpson from the University of Gdansk on cultural and Baltic identity and ideas on how to shape it, also in CBC projects.
Later in the afternoon, the participants shared their experiences through focus discussions and workshops about three topics: culture and tourism, youth and sustainable transport.
At the end the stakeholders got to know more about which can be the bases for the CBC nowadays, exploring the specific offer of the Umbrella project.
During the whole day, participants also had the chance to talk with JS representatives who answered their questions about the South Baltic Programme, as well as get to know the offer of other EU programmes like Interreg Baltic Sea Region, Europe for Citizens or Horizon 2020.
We wish to thank all the participants for their presence, inspiring discussions and initial ideas for the future transnational cooperation in the South Baltic Sea and beyond!