Tell us more about you! Take part in UMBRELLA survey
UMBRELLA project team is currently working on identifying the main needs and obstacles for smaller organizations (but not only) to participate actively in various EU International cooperation projects. 
We would like to detect if you are familiar with the South Baltic Programme (https://southbaltic.eu/) what is your field of activity and your interests to participate in international projects. This will help us to facilitate your networking and propose the best services for Your convenience.
Here please find a link into a survey, which will allow you to express your position and identify main obstacles (if there are any) and needs for participation in EU international cooperation.
It will take you just 5 minutes to answer and you will help us to provide a better service. Thank you so much in advance!
We remind you that some of the advantages of taking part in our UMBRELLA's events are:
– Possibility to participate in international events
– Networking
– Expertise support in cross-border cooperation and project applications
-Reduction of your financial burden to take part in events, workshops and conference.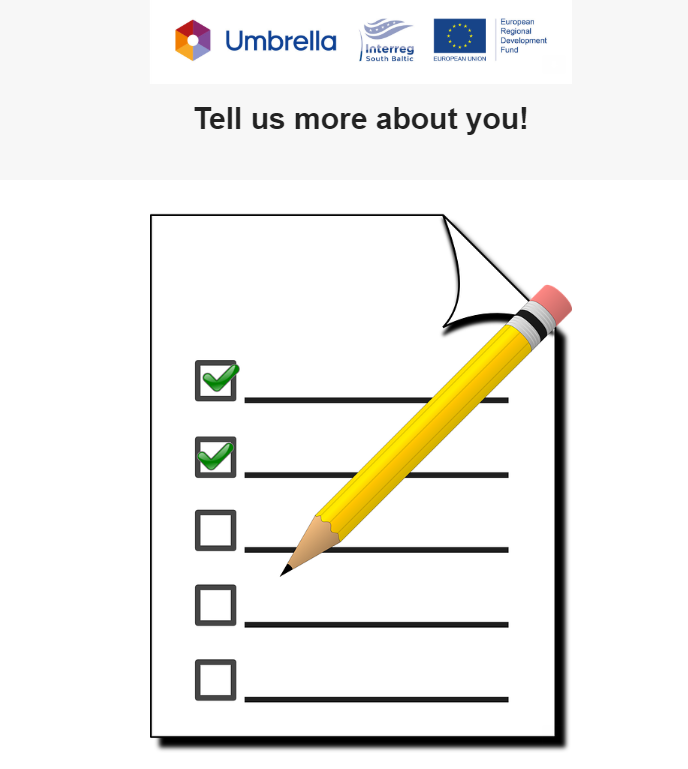 Should you need any further information, don't hesitate to contact our team!
Leader: Valentina Scandola, Association of Polish Communes of Euroregion Baltic (PL) at valentina.scandola@euroregionbaltic.eu
Research team from Klaipeda University:
Rasa Viederyte at euprojects.ku@gmail.com or rasa.viederyte@ku.lt
Tags: beneficiaries, capacity building, project, SouthBaltic, Umbrella