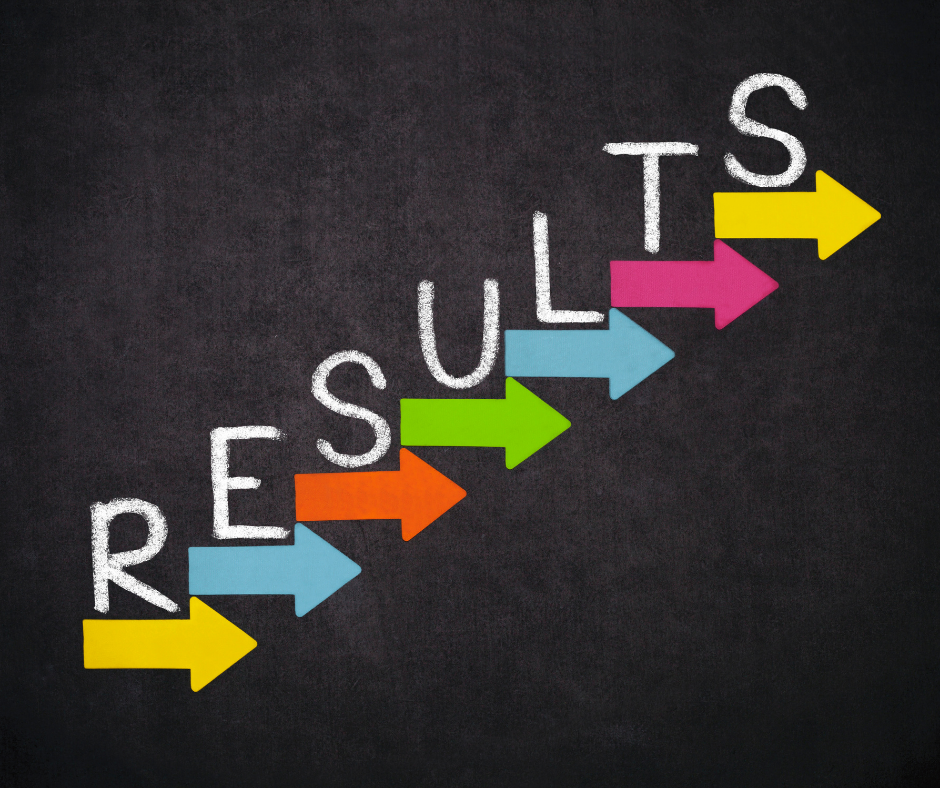 Umbrella 2.0 report of activities in 2021
UMBRELLA 2.0
To fill the gap left after the Umbrella project in the cross-border cooperation, waiting for new financing in the EU programming period 2021-2027, Euroregion Baltic realized the Umbrella project's success in the process of capacity building initiated in 2018 could not be stopped. For this reason, the so-called Umbrella 2.0 proposal was presented to the Swedish Institute as a natural consequence of the Umbrella Project (SBP) and its willingness to become a recognized brand, active also on a broader Baltic Sea scale. Therefore, Euroregion Baltic, together with UBC and BSSSC, submitted Umbrella 2.0- Boosting transnational cooperation capacities for multilevel actors in the Baltic Sea Region- that was approved and launched in January 2021.
UMBRELLA 2.0 PRESENTATION
Umbrella 2.0 project presentation Project management training
AIM OF THE PROJECT
The project's overarching goal was to increase awareness and knowledge of transnational cooperation in the Baltic Sea Region. More specifically, the project aimed to initiate a process for developing solid multi-actor and multilevel governance partnerships that could undertake cross-sectoral sustainable solutions while following the principles and objectives of the EU Strategy for the Baltic Sea Region, EU Green Deal and UN SDG.
The aims concerning the Baltic Region were:
– To raise awareness of opportunities and benefits of transnational and cross-border cooperation and increase regional stakeholders' interest in it;
– To empower stakeholders to build strategic and long term-partnerships, support networking, and straighten community of practitioners in different sectors;
– To improve knowledge of the EU, its financial instruments and relevant strategies, with particular focus on the EUSBSR;
– To explore the opportunities and benefits of being part of EUSBSR and offer practical guidelines on how to engage in long-term;
– To help build competencies, i.e. knowledge and skills necessary to run projects with benefit to the Policy areas, and create specific networks of interest in different sectors in a cross-sectorial manner focusing on a shift and transformation by our beneficiaries (activating them for sustainable transnational cooperation).
Umbrella 2.0 builds on the Umbrella project (2018-2020).
Umbrella proved to be an optimal mediator among different stakeholders. Therefore, starting from the presumption that the EUSBSR and the local actors are completely detached one from the other, Umbrella 2.0 objective was to develop know-how capacities for local organizations in the field of cooperation in the Baltic Sea Region, harmonizing local needs and actions and upper strategic lines.
While the local actors are focused on objectives in their local sphere of influence, the StrategyStrategy provides guidelines not known at the local level. A bridge between local actors and the StrategyStrategy needs to be set to enhance the interaction among all the levels of governance to start a process that can facilitate the implementation of EUSBSR and other sustainable policies matching with the EU Green Deal and SDGs. Umbrella 2.0 would act as a means to mediate the communication between the strategies and the local level, raising awareness and providing practical knowledge and tools for implementation.
UMBRELLA 2.0 SUMMARY OF ACTIVITIES
All the training materials and stakeholders are collected in the Moodle platform http://umbrellaproject.eu/moodle/
Awareness Raising Event (Euroregion Baltic), April 27 2021 – 125 participants from BSR countries
http://umbrellaproject.eu/thank-you-for-joining-umbrella-2-0-awareness-raising-event/
Over 125 participants joined the event on Tuesday, April 27, to learn more about the cooperation possibilities in the Baltic Sea Region. More than 90 participants also stayed for the thematic workshops and enjoyed discussing with experts from all BSR countries. After a presentation of the Umbrella 2.0 partner organizations, their main activities, the Swedish Institute and its offers for the Baltic Sea Region actors, the event proceeded with a session of knowledge sharing on Sustainable Development Goals and their implementation measures in the Baltic Sea Region. The key of this event was the presentation of the EU Strategy for the Baltic Sea Region "entry points' for small and local actors based on 14 interviews with EUSBSR Policy Area Coordinators.
Finally, 4 thematic workshops were provided:
EU Green Deal and EUSBSR June 15 2021, organized by BSSSC (training session, done online due to pandemic situation) – 75 participants http://umbrellaproject.eu/umbrella-2-0-presents-green-deal-the-strategy-that-is-changing-europe/ and https://www.bsssc.com/green-deal-changing-europe-june15
75 people took part in the event on the EU Green Deal concerning the Baltic Sea Cooperation and dedicated to the so-called 'newcomers', meaning small and local organizations willing to engage and increase knowledge on
​EU Agenda,
Organizations active in the Baltic Sea Region
Projects and their impact in 'greening' the BSR
Project Management training by Agile Pro company financed by the ERB as own contribution – October 22 (20 participants)
Project Management training by Agile Pro company funded by the ERB as own November 9 2021 (16 participants)
http://umbrellaproject.eu/umbrella-2-0-organizes-training-on-project-management-in-form-of-webinars-register-now/
The first PROJECT MANAGEMENT FOR BEGINNERS was held on October 22 9.00- 14.00, and included some of the following topics:
– Project Cycle Management
– analyzing a problem or needs
– stating objectives and impacts
– identifying partners and stakeholders
20 people took part in the training
The second ADVANCED PROJECT MANAGEMENT was held on November 18 9.00-14.00, and included some of the following topics:
– Business Analysis Core Concepts Model
– How to plan a strategy
– Networking Diagrams
– TEAM
– Change Management ADKAR
16 people took part in the training
Training session on EUSBSR done online due to pandemic situation http://umbrellaproject.eu/umbrella-2-0-training-session-about-the-eusbsr/and here: http://umbrellaproject.eu/training-on-eusbsr-successfully-implemented/, 55 participants
The training was held on November 9 2021, at 9.30-15.15 CET, Online. The event was organized by the Umbrella 2.0 partner – Union of the Baltic Cities.
The overall aim of the training was to shift the paradigm from taking part in international projects to becoming an active player in the EUSBSR process. The goal was to share the knowledge on how to build a method for implementing EUSBSR at the local level by local authorities and civil society organizations.
Project Management Training with Peerstage company – session for beginners – 19 people participated on December 10 2021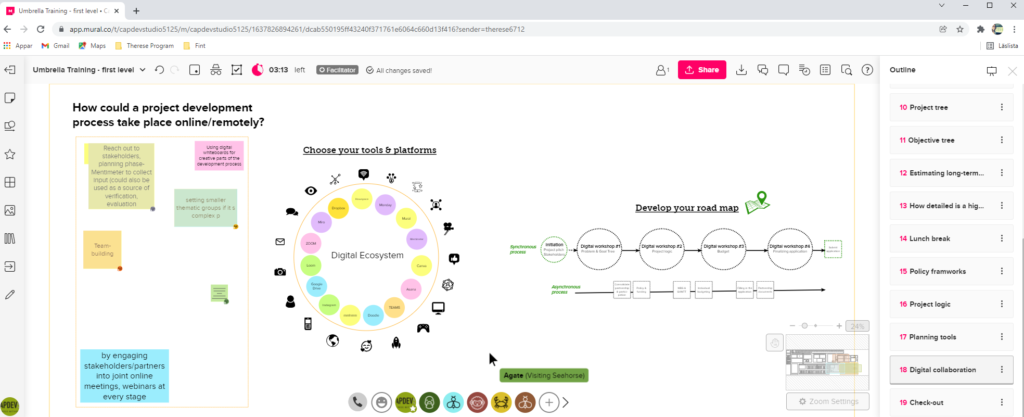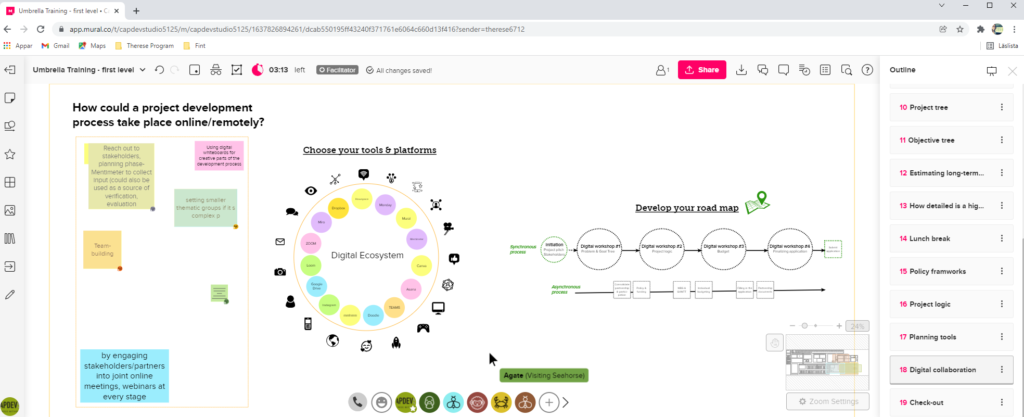 Reports by Umbrella 2.0 publications regarding the EUSBSR and BSR cooperation were disseminated among almost 1000 BSRC stakeholders (combined Umbrella and Umbrella 2.0 stakeholders lists, UBC, ERB and BSSSC newsletters), downloaded from the websites more than 300 times.
Umbrella 2.0 Entry points report: https://bit.ly/Umbrella2Report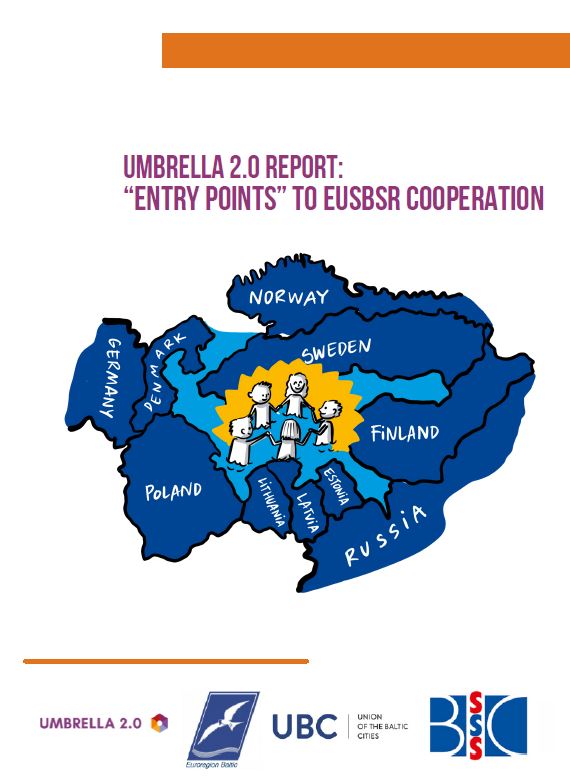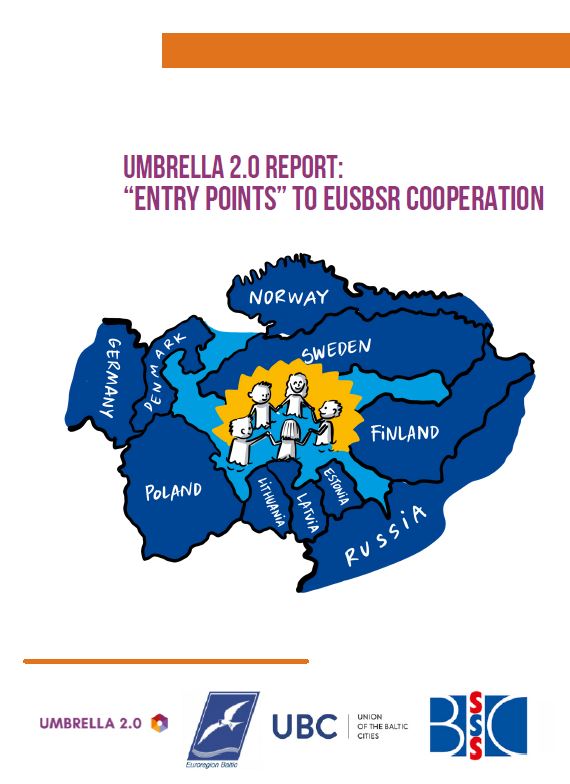 For two months, the experts conducted a series of 14 interviews with Coordinators of all Policy Areas of the Strategy, attempting on the one hand to gain a broad picture of the current status of local stakeholders' participation but also to listen to exciting ideas and proposals on what should be done further to integrate them in the works of the StrategyStrategy.
Umbrella 2.0 Booklet https://bit.ly/Umbrella2Booklet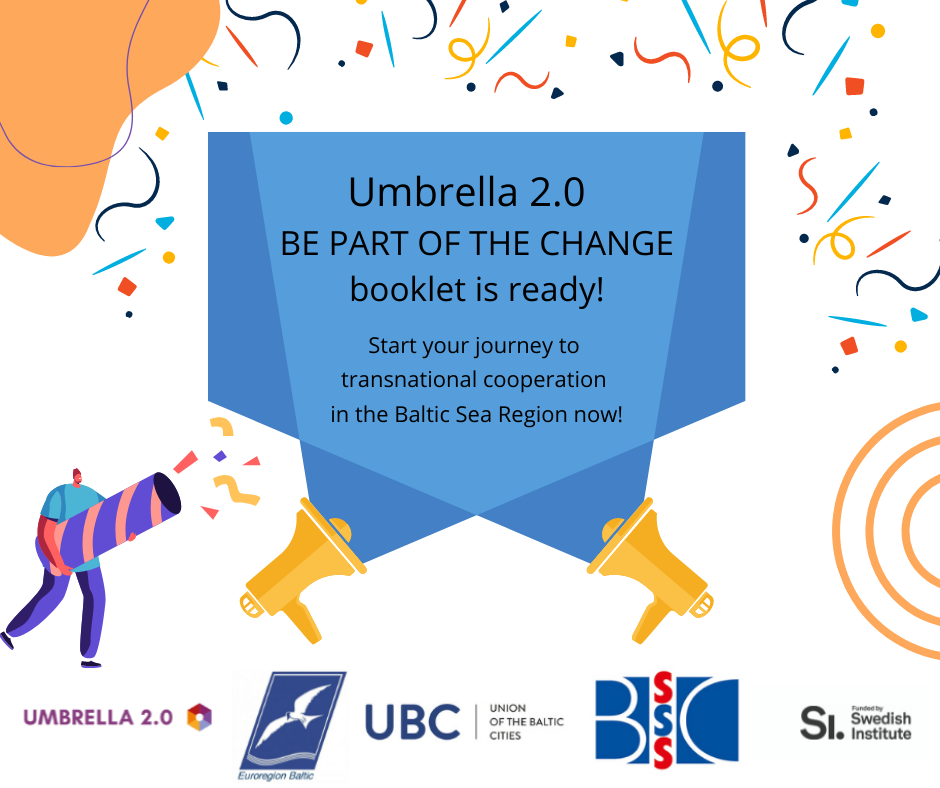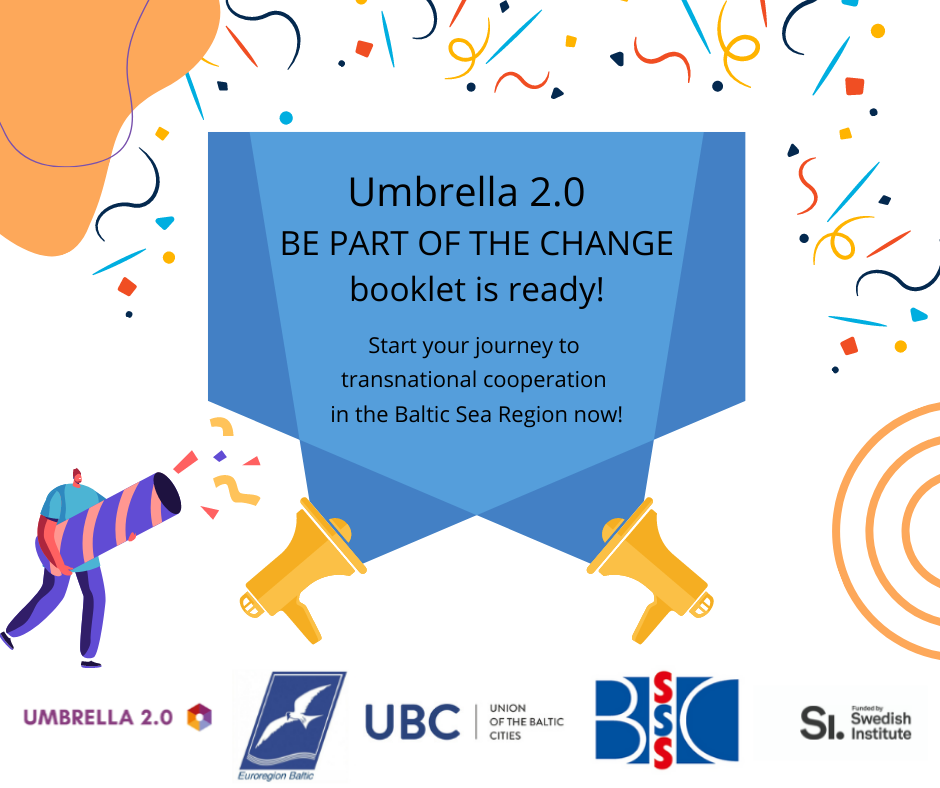 Umbrella 2.0 developed this booklet with best practices to further build the capacities of small and local actors and inspire more stakeholders to engage in transnational BSR cooperation. The stories show successful collaboration, extensive networking, and current and future "hot topics" for cooperation in EUSBSR thematic areas. Partners of Baltic Sea cooperation projects and initiatives were asked to share their stories about what good transnational cooperation can bring to their work, organizations, and local communities.
To be organized:
Training session on SDGs (online, Feb or March 2022)
3 lunch-to-lunch events with PACs and flagship representatives à to be organized as smaller physical events or in hybrid form until the end of March 2022 (UBC in Gdansk, BSSSC – location tbd, proposed by ERB – Stockholm and ERB in Palanga)


Tags: BSR, capacity building, EU Green Deal, EUSBSR, local actors, meeting, project, report, SDG, Swedish Institute, Umbrella 2.0, webinar